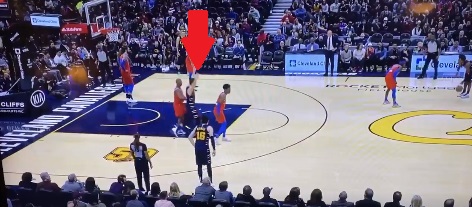 Kevin Love Gets Angry and Fed Up with Collin Sexton and Angrily Throws the Ball At His Teammate Cedi Osman almost breaking his hand's fingers.

Kevin Love has had enough of Collin Sexton not knowing when to initiate the Cavaliers offense. At the end of the 2nd quarter Kevin Love was seen holding head losing his mind, as Collin Sexton stood in one spot and initiated the offense when the shot clock was near only 7 seconds.
Kevin Love angrily walked towards him calling for the ball, then threw it with all force at Cedi Osman, leaving you wondering how he didn't break a finger catching the ball. Colin Sexton stood frozen like a statue embarrassed, as he looked on.
It would be the second time in the past few weeks Kevin Love has thrown a temper tantrum. Not too long ago he was seen beating up a chair on the sideline. Not too long before that Ja Morant almost ended his career with a monster dunk.
It's safe to say, it looks like Kevin Love will be traded soon. The rumors are saying he will end up on a team out west.