Kid Cudi Goes on Emotional Rant About Meeting Juice WRLD at Coachella before his Death
Juice WRLD was a major Kid Cudi fan, so it was no surprise to see Kid Cudi pour out his heart on twitter about the time he got to meet the deceased superstar. In a series of posts, Kid Cudi detailed how he met Juice WRLD at Coachella, and was surprised to find out how much a fan he was. He also posted a screenshot of a text conversation between him and Juice WRLD after they met.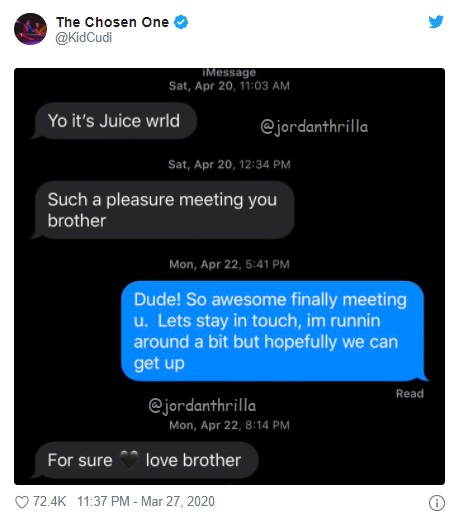 You could sense the immense pain in Kid Cudi's heart as wrote that post. It's like that moment where you randomly think about someone that has passed on, and it hits you hard emotionally like it just happened again.
RIP Juice WRLD, the hip hop world will forever miss him like Kid Cudi does.
Author: JordanThrilla