Kodak Black Calls Live From Jail to G Check NBA Youngboy on Instagram Live.
The beef between Kodak Black and NBA Youngboy just got deeper. Kodak Black Called from Prison on Instagram Live to diss NBA Youngboy tell him he's "not like that". Kodak Black called from prison on IG Live just to check NBA Youngboy in the viral video.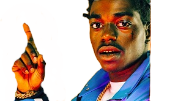 Kodak Black let NBA Youngboy know that the disses toward him are not stopping anytime time soon. Kodak Black warned NBA Youngboy to be prepared to dissed a lot in the near future.
Kodak Black calling from prison just to check NBA Youngboy again is proof of how determined he is to destroy NBA Youngboy's tough guy image.
Author: JordanThrilla