Lakers Waive Demarcus Cousins after Signing Markieff Morris.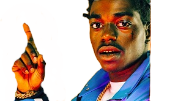 The Los Angeles Lakers have released Demarcus Cousins. After helping Boogie rehab through his ACL injury, Lakers notified him that they no longer need his services.

When Demarcus Cousins tore his ACL, many people didn't even expect him to return this season. However, a few months ago rumors started to swirl that he would be back by the end of the seasons. Cousins even talked about how he was ready to face the Clippers with his Lakers teammates once healthy on a recent podcast.
As we know, life changes quickly and it now looks like Demarcus Cousins might have to think about retirement. Given his very very bad injury history, another team might not take a chance on him.
Let's hope for the best for Demarcus Cousins through this tough time.
Author: JordanThrilla