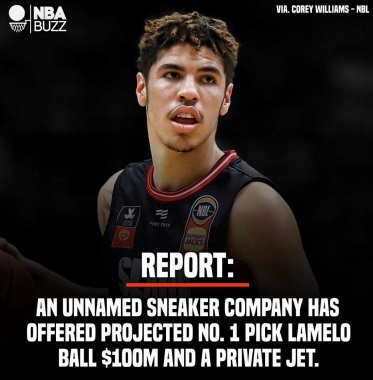 Lamelo Ball Offered a $100 Million Dollars Sneaker Deal and Private Jet by Unnamed Company in partnership with BBB.

Lamelo Ball has allegedly been offered $100 Million Dollars and Private jet by an anonymous company. The $100M deal would include partnership with Big Baller Brand. The news comes by way of the NBL, which is the Australian basketball league. It would be one of the most lucrative sneaker deals for an 18 year old in basketball history.
If Lamelo Ball secures this deal, it would further prove how genius Lavar Ball is. With BBB recently relaunching, the sneakers deal is said to include some type of partnership or incentives with Big Baller Brand.
Lamelo Ball is projected to be a top 3 pick in the upcoming NBA draft. He already is a superstar with millions of followers, and broke attendance records in Australia by pulling NBA level crowds at some of his games.
Lonzo Ball has been playing great, Gelo Ball just got signed to an NBA team, and Lamelo Ball is getting $100 Million dollar offers, thinks couldn't be better for the Ball family right now.