Lavar Ball Reveals Plan to Have Lonzo Ball, LaMelo, and Gelo Play on the Knicks at the same time with Mark Jackson.

In an interview with TMZ Sports, Lavar Ball said he wants Lonzo Ball, Gelo, and Melo to play on the same team, the New York Knicks. He wants Mark Jackson as the coach. The sports world king of speaking things into existence, Lavar Ball has spoken once again.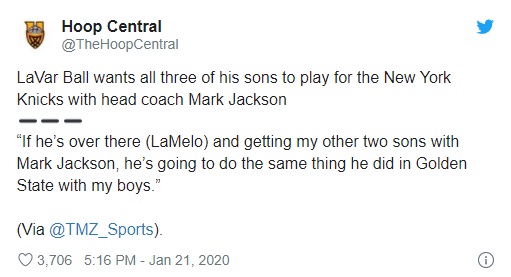 He spoke Lonzo Ball being drafted by the Lakers into existence. He spoke LaMelo Ball being a top 3 draft pick into existence. He even was able to speak Gelo Ball into a roster spot with OKC.
Last time Lonzo was in New York he put on a show, with 15 points and 11 assists.

Based on that history, Lonzo, Gelo, and LaMelo may be a reality in the near future.
Author: JordanThrilla