Lebron James Caught Looking in Disgust A Kyle Kuzma's New Golden Colored Hair as Trade Rumors Loom. Proof Lebron James is about Trade Kyle Kuzma.
Lebron James appears to fed up with Kyle Kuzma and his new hairstyles. During their most recent game, Lebron was caught side eyeing Kyle Kuzma's gold hair in disgust.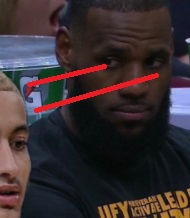 Whether or not the look of disgust was because of Kyle Kuzma's trainer talking trash about Lebron or his hair is not clear, but Lebron was definitely staring at Kyle Kuzma's hair when he was caught.
From the past, we know this is the look Lebron gives a teammate when he is ready to trade you. This leads many people to believe Lebron is about to trade Kyle Kuzma after the look went viral, and we all know Lebron will trade you.
There have been rumors of Kyle Kuzma being traded to Kings and Timberwolves, either for Robert Covington or Bogdan Bogdanović. After seeing how Lebron was caught looking at Kuzma, one of those trades seems likely to happen very soon before the February 6th trade deadline.