Lebron James Destroys the Astros and MLB in Epic Twitter Rant.

Lebron James killed the MLB and Astros in an emotional rant about their cheating scandal.
Lebron James vehemently told the MLB commissioner to listen to his players and do what is right for the Sports World.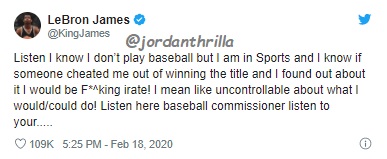 Lebron James seems to be calling out the commissioner for not being extremely angry about the cheating that went down.
Lebron is seems to be questioning his sense urgency on the matter, but still giving him the opportunity to quell the brewing storm in the MLB around this incident.
It will be interesting to see if the MLB commissioner responds to Lebron.
Author: JordanThrilla