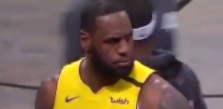 Lebron James gets Angry after Brooklyn Nets forget his Pregame Powder Toss Powder.

Lebron James wasn't able to do his pregame powder toss for the first time ever before Lakers game vs Nets. Lebron got visibly frustrated when he realized Nets forgot is pregame powder equipment. Kyrie Irving stole it, is what social media is saying.

For the fans that were expecting to witness the moment, it became a disappointing moment. Lebron's powder toss is part of NBA history.

On the bright side, at least those fans will be able to say they were at the one game where Lebron wasn't able to toss his powder in the air before the game.
Author: JordanThrilla