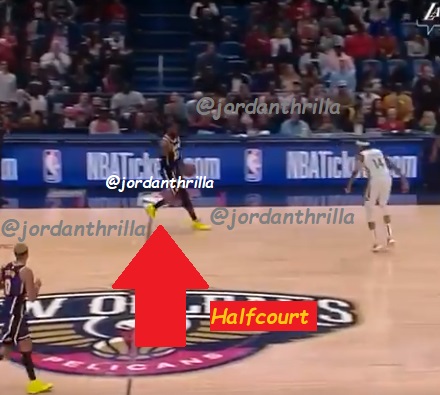 Lebron James Gets Mad at Zion Williamson Then Pulls Up from Halfcourt in his Face and Makes It During Pelicans vs Lakers.

Lebron James is taking Zion Williamson turning down Klutch Sports very personally. The grudge against him continued when Lebron took a three point shot from half-court right in Zion's face, after he had just made a dunk on the other end.
Here was the dunk right before from Zion Williamson that got on Lebron's nerves.

Lebron stared down Pelicans team after confidently watching his shot fall through the net. It gave Lakers the lead going into the Halftime crushing the morale of Zion Williamson and his teammates going to the locker room.
The beef people perceive between Zion and Lebron stems from people trying to say that Zion Williamson was better as a rookie. People think it also stems from Zion turning down Klutch Sports offer to be his agent.
What ever the case may be, Lebron is going 110% anytime Zion is his opponent.
Author: JordanThrilla