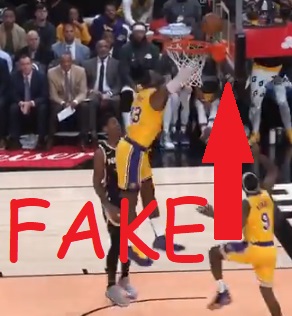 Lebron James Pretends to Block Rajon Rondo's Shot after he Fake Passes To Him during Lakers vs Hawks.

When Lebron James pretended block Rajon Rondo layup shot after Rondo did a pass fake, they made NBA history. It was the first time ever we saw a Pass Fake to Block Fake completed intentionally in an NBA game.
A lot of people might not realize how tough the block fake is to complete. It's a very difficult play that could of easily ended up as offensive interference had Lebron mistakenly hit the ball. The chemistry between Rondo and Lebron had to be at pristine levels to pull this off successfully.
If Lebron James and Rondo are making plays like this already, come playoff time it won't even be fair anymore. Two of the best passers in the league on the same team.