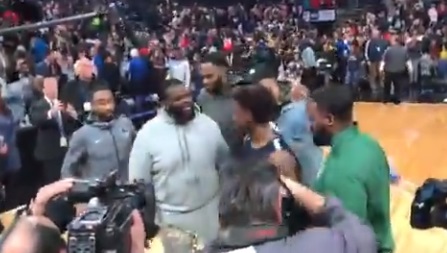 Lebron James Shares Special Father Son Moment with His Son Bronny JR After he Wins MVP vs His Alma Mater Team St. Vincent-St. Mary in first Nationally televised game.
Lebron James Son Bronny JR Won MVP against Lebron's old high school team St Vincent-St. Mary, then takes picture with him after. Lebron James son Bronny Jr dominated in his first nationally televised game, scoring a career high 15 points and scoring the go-head basket off a steal. His play earned him the coveted MVP award.
After the game it was special father and son moment, as Lebron took a post game victory picture with his son. Lebron James dream is to play with his son in the NBA.
If Bronny JR can keep up this level play and Lebron can last long enough in the NBA, we may actually see that happen.