Lil Boosie Goes into Shock After Magician Hypnotizes His Son then Makes Him Float with Magic Trick.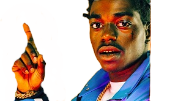 Lil Boosie was amazed after a magician made his son float in the air with an amazing magic trick. The magician was even able to hypnotize Lil Boosie's son.
Many people think Magic is fake. Anytime a magic trick is done, they question what really went on behind scenes to make it happen. However, in this case it really looks like magic made Lil Boosie's son float. The magician clearly has some type of supernatural magic power, and uses to entertainment purposes instead of evil.
Lil Boosie and his son might have experienced true magic for the first time. It could be a life changing experience for them.