Lil Nas X Admits He Isn't Gay and Still Likes Women in Viral Message.

It seems Lil Nas X was pretending to be gay. Lil Nas X said he was raised to serve his queen as in lady in new message, and it has people everyone wondering if he is really gay.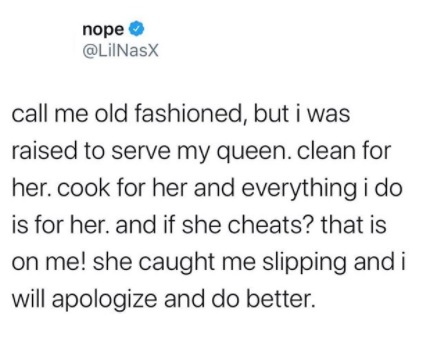 Lil Nas X said he is old fashion and he cooks, cleans, and serves his queen. He even said if she cheats on him, he would blame himself.
People who are fans of Lil Nas X aren't sure what to think anymore. It seems like he might of been trolling the world.
It appears the Old Town Road may have been going a different direction all along.
It will be interesting to see if this causes him to lose or gain fans.
Author: JordanThrilla