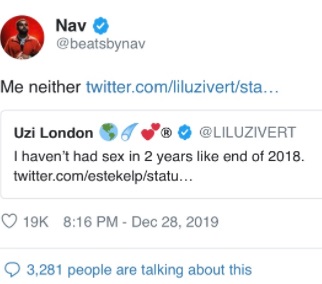 Lil Uzi Vert and Nav Say they are Practicing Celibacy and Haven't Had Sex in 2 years.

Lil Uzi Vert and Nav have strong values, and it was made evident when they both revealed they are practicing celibacy on twitter. Lil Uzi Vert and Nav claim they haven't had sex in 2 years. Lil Uzi Vert says the last time he had sex was the end of 2018. Here is the full quote from Uzi Vert,
"I haven't had sex in 2 years like end of 2018".
Nav replied to the tweet saying "Me Neither". Scientifically it is alleged that by remaining celibate it can increase your overall strength and energy, by boosting the testosterone levels in your body. For a guy like Uzi Vert who seems a bit feminine, a testosterone boost would definitely be a good thing.
For two people like Nav and Lil Uzi Vert, who have women throwing themselves at them at all times due to their superstar status, remaining celibate for that long shows they have very strong will power. It's safe to say though, the first time they hookup with a woman again, they probably won't last longer than a few seconds.