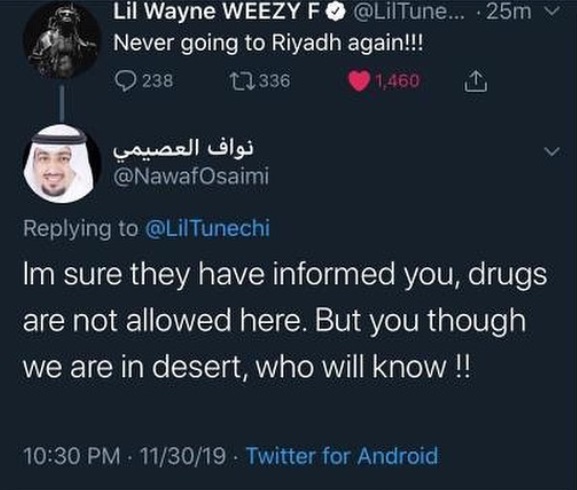 Lil Wayne Almost Gets Arrested and Locked Up in Jail in Riyadh on Drug Charges, then dissed Riyadh on Twitter, and they respond.
Lil Wanye is never going back to Riyadh, Saudi Arabia and he let the world know after he got in trouble with the strict drug laws there. An angry Lil Wayne tweeted,
"Never Going to Riyadh Again!!!"
The three exclamation points at the end of his brief statement lets you know how mad he was. An official from Riyadh then responded,
"Im sure they informed you, drugs are not allowed here. But you though we are in a desert who will know !!"
The two exclamation points at the end of their response was surely to mock Lil Wayne.
It's safe to say Riyadh doesn't have any love for people who do drugs, even the biggest superstars in the world like Lil Wayne.