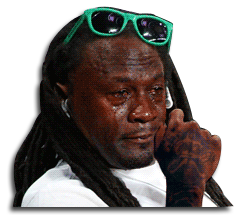 Lil Wayne canceled his St. Louis concert show after getting KICKED OUT Ritz-Carlton hotel for a fight over Marijuana Weed smell. Clayton Police Department said resident guests at the hotel complained of a strong marijuana weed odor coming from his room. At the point the cops were called, after the hotel staff investigated. Then Lil Wayne Tweeted:
"Sorry not doing the show tonight in St Lou kuz I was just kik'd out the ritz and 12 got involve so I gotta slide. Tht y'all f w me out here. Dam slime. It's all luv tho"
In other words Lil Wayne doesn't mess with the cops, and once they were called, he had no choice but to cancel. The good thing is, Lil Wayne and his crew left the hotel without incident, and no one got in trouble. The history of Lil Wayne cancelling shows continues. However this time, the blame goes to Ritz-Carlton, the Police, hotel guests who complained, and that strong smelling marijuana weed.