Lil Wayne Ex-Girlfriend Toya Shows Off Her New Double Dutch Jump Roping Skills for Double Dutch Competition.

Lil Wayne's baby mama Toya has a new skill, and it has nothing to do with bouncing on Wayne. Toya showed off her incredible double dutch jump roping skills while practicing for an upcoming competition.

Here skills are impeccable and you can tell she practiced a lot to get to the level she is at.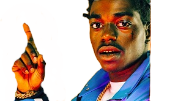 Double Dutch competition are no joke. They require a lot of endurance, reaction timing, agility, and leg strength.
If Toya wins the double dutch competition, you might see Lil Wayne begging her to come back to him.
Author: JordanThrilla