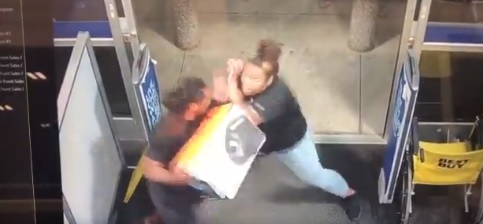 Man Attempts to Leave Best Buy with Stolen Merchandise and Gets Blocked by a Female Football Player when trying to exit the store.

A man attempted to steal an item from Best Buy but got viciously blocked a female football player when trying to leave the store. The female's blocking skills would put any NFL football player to shame.
In the video a man is seen carrying a large box attempting to quietly leave the store, when the female football player starts blocking to the point that he falls through the wall. Security then quickly apprehended him and threw him out the store. The video has since gone viral.
Not only did he not get the item, the man was also embarrassed for the world to see, and will likely face criminal charges. This is a Christmas that best buy store will never forget.