Man Gets Badly Drawn Tattoo of Kobe Bryant #24 Lakers Jersey Covering His Entire Upper Body.

There are many ways you can honor the legacy of Kobe Bryant. A man who got a giant tattoo of Kobe Bryant's Lakers Jersey covering his upper body, took that to a new level. It may be the first literal Jersey Tattoo ever.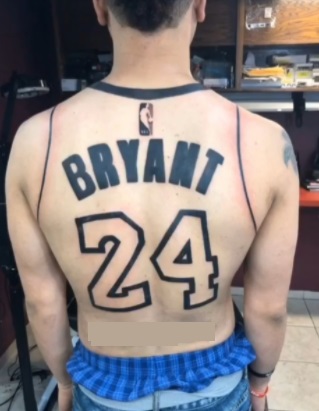 While the idea here was cool and born out of a good cause, the outcome seemed less than stellar to most people. The quality of a tattoo was a tad bad according to a lot viral comments on social media.
Hopefully the tattoo is unfinished, and they are planning to add some purple and gold to it one day.

RIP Kobe Bryant, his daughter, and the 7 others who died in the tragic crash.
Author: JordanThrilla