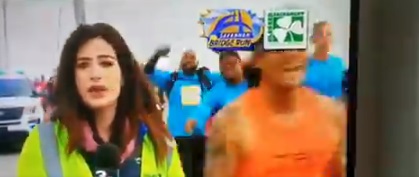 Man Slaps WSAV Reporter On Her Butt on Live TV During 5K Run Coverage Leaving Her Angry and Shocked. Runner gets banned from future races.

A WSAV Reporter was slapped on the butt by a runner during Live TV coverage of a 5k run event. The runner was quickly banned from participating in future races. The moment left the reporter angry, speechless, and in shock. It was a moment sure to rile up the Me Too Movement again.
In the video, several runners pass and then one young man winds up a ferocious smack, slapping the reporter right on her buttocks.
Since the incident was seen live on TV, the person will most likely be facing legal action, and he won't really be able to make excuses since the world has seen the evidence already.