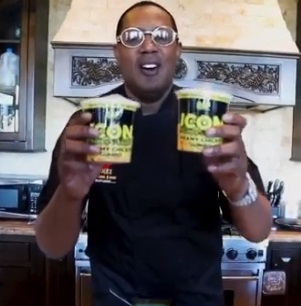 Master P Releases and is Selling His Own Brand of Ramen Noodles "Chef-Boy-Ar-P" Rap ICON Noodles in "New Orleans Creamy Chicken and Gumbo" flavor.

For a lot of people Noodles was staple in their diet growing up. Hip Hop mogul Master P used this fact to create is own brand of noodles "Chef-Boy-Ar-P Rap ICON". They come in "New Orleans Creamy Chicken and Gumbo" flavor, which sounds good unless your vegan. They definitely looked creamy in his Instagram video, so it seems to live up to the name in that regard.
His full statement on Instagram read,
"Chef-Boy-Ar-P. I grew up on noodles now I created my own brand. Start small and build. Get you some product if you want to be successful. Its nothing like this New Orleans flavor creamy chicken and gumbo. You can cook it on the stove or you can put it in the microwave."
At the very least it should be a hit among college students. We all know how important noodles are when you're living in a dormitory. Also it definitely sounds a lot cooler to be eating "No Limit" noodles, instead of noodles.
Author: JordanThrilla