Meek Mill Gets Clowned For Deleting All His Tweets Exposing and Dissing Nicki Minaj. "Weak Mill" goes viral.

Meek Mill accused Nicki Minaj of knowing that her brother was raping an 11 year old girl, but he quickly deleted all the tweets. This led to people on Twitter clowning him referring to him as "weak mill".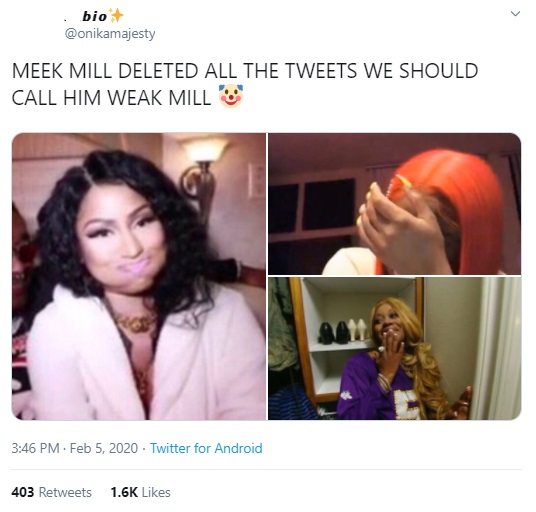 The name "weak mill" quickly went viral. This comes after Meek Mill had just clowned her boyfriend on Instagram, then the Instagram post mysteriously got deleted too.
As the beef between Nicki Minaj and Meek keeps heating up, many people are wondering how hot it will go. Dirty laundry is being aired out at alarming rates by both parties.
As of right now though, a lot of the world thinks Nicki Minaj got Meek Mill looking like "Weak Mills". It may be too early too tell who won the beef though.
Author: JordanThrilla