Meek Mill Private Jet Gets SEARCHED by the FEDS in Miami After Landing.

Video footage of Meek Mill's Private Jet being searched by police after he landed in Miami Florida, has surfaced. Meek Mill rants about the police searching him because of skin color, as he records them interrogating his crew members while searching their bags.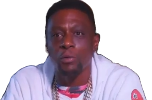 There hasn't been any clear details on why Meek Mill was searched, but from the pretenses of his rant it seems like this has happened to him before.
Meek Mill is at the height of his career, and has become one of the most respected figures in Hip Hop. It would be sad if he got caught up with law again.
Author: JordanThrilla