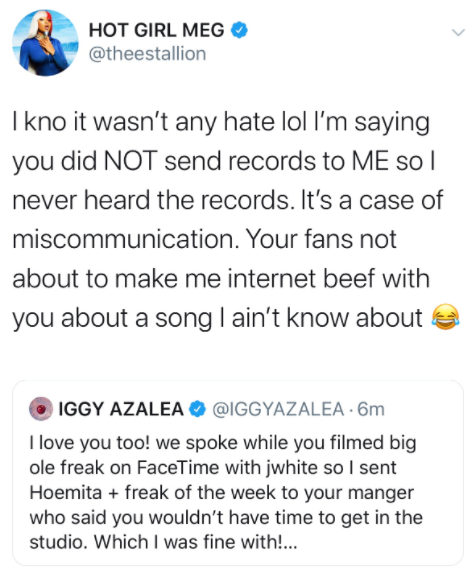 Iggy Azalea, her fans, and Megan Thee Stallion are beefing on Twitter. Iggy Azalea says Megan Thee Stallion copied her music and style from songs "Hoemita" and "Freak of Week", that they were supposed to collaborate on. They say Megan Thee Stallion does not support Iggy, although she supported Megan before she became popular. Megan Thee Stallion claims she never heard the songs and didn't know about them according to the tweets. Megan Thee Stallion says she refuses to "internet beef" with Iggy over songs she didn't know about.
Here is how Megan Thee Stallion responded in her last Twitter post regarding the issue:
"I was excited for the tour but it just didn't happen. Iggy ain't send me no songs when she had my number or personal email back then lol idk who she sent a song to now, love Iggy tho"
It's clear either Megan Thee Stallion does not want to be associated with Iggy Azalea, who T.I. called the "Tarnish of his Legacy", or maybe she really didn't know about the songs, and just has similar sounding music. There is also the possibility Megan Thee Stallion has been caught red handed stealing from Iggy Azalea, and shes trying to save face after being called out by Iggy and her fans.