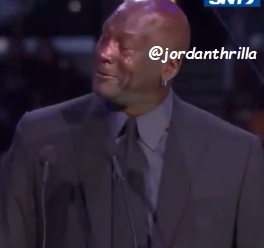 Michael Jordan Leaves a New Crying Jordan Meme In Honor Of Kobe Bryant at His Memorial Service.

Michael Jordan acknowledged he is about to become another new MJ Crying Meme because of Kobe Bryant's death. Michael Jordan broke down in tears during his speech at Kobe Bryant's Memorial service.

His touching speech was very emotional and brought tears to everyone eyes. It was near the end of the speech that mood changed to a bit of happiness and laughter when Jordan mentioned he will have to look at more Jordan crying memes for the next 4 years because of the moment.
The best part of the speech was knowing that Michael Jordan calling Kobe Bryant a little brother. For Kobe, we know it would of been a dream come true to hear his idol Michael Jordan say that.
Rip Kobe Bryant, Gianna, and the 7 other who passed away on that tragic day.
Author: JordanThrilla