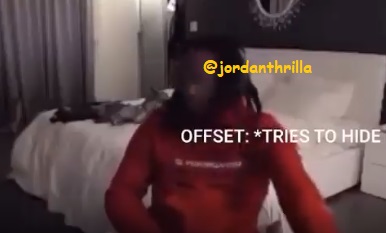 Migos Offset Caught Trying to Cheat on Cardi B During Coronavirus Quarantine and Hiding His Phone.
Coronavirus lockdown has caused famous couples to have be around each other all the time, for Offset this means hiding his phone so Cardi B does't see him cheating is the new norm.

In a new viral video, Offset was seen hiding his phone whenever Cardi B walked into his room, then he would pull back out the phone once she left to continue talking to someone. Offset could be seen looking over his shoulder while using his phone to cheat, so Cardi B wouldn't find out.
Domestic Violence has increased since coronavirus lockdown started according to reports, Offset wasn't trying to become part of that statistic.
Author: JordanThrilla