MSNBC Reporter Alison Morris Says the Racist N Word on Live TV During Coverage of Kobe Bryant's Death.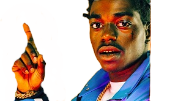 MSNBC Alison Morris was caught saying the "N*****" on Live TV while talking about Kobe Bryant's helicopter crash. Alison Morris's racist comment has made her go viral.

When she realizes she said the N word she quickly corrects herself, but millions had already heard her mistake.
The question people want to know is why that word would even cross her mind at that moment in time. The word she corrected herself with was nothing close to the N word.
Those questions will have to be answered now that she is viral around the world.
RIP Kobe Bryant.
Author: JordanThrilla