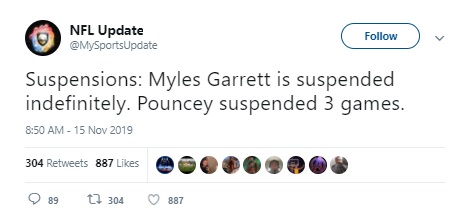 New video shows Mason Rudolph started fight by trying to break Myles Garrett's Neck, by twisting His Helmet First. Myles Garrett was suspended Indefinitely by NFL without pay, but Mason Rudolph was going for his helmet first, almost as if to break his neck. Mason Rudolph should be suspended too, and not just fined.
Myles Garrett's season is most likely over after he was suspended indefinitely, for hitting Mason Rudolph in the head with his helmet. To many the suspension is fair, but on closer look Mason Rudolph went for his helmet first in an even more dangerous fashion, and should suspended as well. Take a close look at the video below.

Clearly, Mason Rudolph is going for Myles Garrett helmet, then twisting it in a fashion that could of easily broke his neck. This was likely the reason why Myles Garrett retaliated the way he did. In his mind, he was probably thinking, Mason Rudolph was trying to severely injure or paralyze him. Both players were in the wrong, but for Myles Garrett to be the only one getting suspended for defending himself after someone seemingly tried to break his neck, is a travesty.