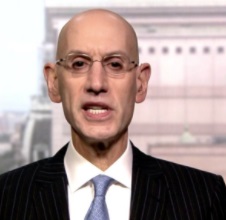 NBA Commissioner Adam Silver Announces NBA Season Suspension Will Last AT LEAST 30 Days due to Coronavirus.
Adam Silver just released statement on how long the NBA season suspension will last. Adam Silver stated that the NBA hiatus will be for at least 30 days. More than likely it will last longer than that, unless NBA is planning to eventually play in empty stadiums.

When news first broke of the NBA suspending the season, there were rumors it would only last two weeks. However, as the news around coronavirus kept getting worse it became apparent it would be a long time before NBA basketball was back.
The NBA playoffs usually starts around April, and the NBA Finals is usually played in June. If the NBA plans to play from where the season was left off, we would be seeing NBA basketball during the whole summer for first time.
Today the NHL, NCAA, and XFL all suspended their seasons as well. For the first time in a long time there will be no March Madness, Hockey, Football, or Basketball to watch on TV. Sports fans are truly experiencing a world without professional sports.
This is the first time in this day and age that many people both young and old are being impacted by a virus outbreak. When SARS, swine flu, bird flu happened the reaction wasn't as intense as we are seeing now for COVID-19.
The old saying goes "things get worse before they get better", hopefully in the days to come we will see the end of things getting worse.
Author: JordanThrilla