NBA Youngboy Responds to Kodak Black Dissing Him.
Kodak Black dissed NBA Youngboy from Jail calling him a snitch for cooperating with the police after Iyanna Mayweather allegedly stabbed his baby mama. NBA Youngboy has responded to Kodak Black, and he's very angry about his comment regarding the Yaya Situation.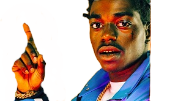 Kodak Black said that NBA Youngboy got scared when he saw real police, then snitched on Floyd Mayweather's daughter Iyanna.
Clearly they both disagree on what happened. Looks like we have an official beef between NBA Youngboy vs Kodak Black.
Author: JordanThrilla