NBA YoungBoy Throws Bucket of Paint on Man Who Shot Him and His Car.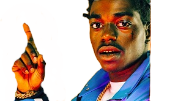 NBA Youngboy is viral after he threw a paint on a man who sprayed him and his car interior with a water hose. The man violated NBA YoungBoy by spraying the water all inside his expensive car.

All in all, both people got violated somewhat. One guy is going to have cut his dreads since they got paint on them, on the other hand NBA Youngboy is going to fix the water damage to vehicle.
It was a moment of when playing around gets a little too real.
Author: JordanThrilla