New Drake Album Leaks with 14 songs and Album Cover.

A rumor is spreading that a new Drake Album just leaked. It allegedly has 14 tracks. Various tweets were seen around social media references the new Drake album leak. The picture above is the leaked album cover allegedly.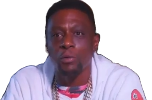 The album allegedly includes some of the tracks he just released a few days ago. Most people who have heard the leak are saying the album is good, but you should reserve judgment until you can hear yourself.
Usually Drake music doesn't leak like this, so the world is shocked. It will be interesting to see if Drake makes a statement.
Author: JordanThrilla