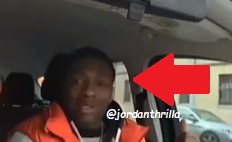 New York Blood Corey King Say West Coast Rappers Have to Check In When in NY Because of Pop Smoke Murder in Viral Video.

NY Blood Gang member Corey King sent a warning to Wack 100, Blueface, Snoop Dogg, and The Game. Corey King said they have to "Check In" whenever they come to New York for any reason, because Pop Smoke was killed in California.

When someone tells people they have to check in, it is basically a warning saying that the area is unsafe. The only way you would know you are safe in the area is by checking in with the people who sent the warning, and making sure they are cool with you being there.
When Corey King added in that he wants to see "bodies dropping", it let you know the seriousness of his words.
Let's hope cooler heads prevail in this situation, Hip Hop has been hit with enough tragedy already in this short year so far.
Author: JordanThrilla