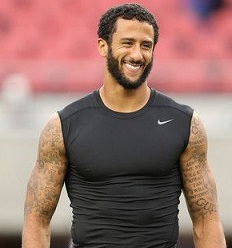 The NFL Teams Attending Colin Kaepernick Private Workout in Atlanta Announced, and the list is incredible. The teams that will be there watching are:
New England Patriots
Detroit Lions
Miami Dolphins
New York Giants
Tampa Bay Buccaneers
New York Jets
Carolina Panthers
Chicago Bears
Washington
Los Angeles Rams
Many people are surprised to see Patriots on the list, but I feel like that would be the perfect destination for him. His strengths on the field would work great with the type of offense they run. The coaching staff there would be able to help him reach his pinnacle as a player as well. It's clear the Patriots feel the same way, since they are attending. He very well could be the quarterback of the future. Either way, the teams that didn't attend are missing out on a great quarterback still in his prime age wise.