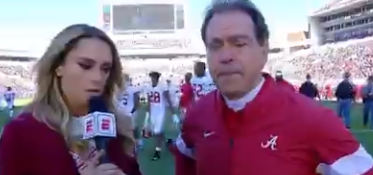 Nick Saban Explains Leaving Tua Tagovailoa in Game when Alabama was Up 35-7 getting him Injured Again.
Alabama fans reactions are very mad after they saw quarterback Tua get injured up 35-7. Nick Saban made excuses about the hip injury saying,
"That was going to be his last series, we were going to do 2 minute before the half just for practice"
You could see by the look on his face, he knew he made a huge mistake leaving him in. Hopefully Tua is able to bounce back from the injury quickly, and it is not that serious. This surely dampens an otherwise great football day for Alabama fans.