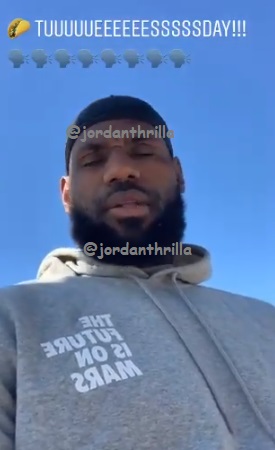 No Haircut Lebron James Confirms NBA Season is Over By Doing the Coronavirus Taco Tuesday in Viral Video.
Lebron James might have confirmed the NBA Season is over, as he looks to be in 100% offseason mode. In new video Lebron James appeared with no haircut and grey hair, letting the world know it was Taco Tuesday. Lebron showed off the fancy Tacos he is still can get amid the coronavirus pandemic.

In the past Lebron usually did Taco Tuesday videos, during the offseason as a sign he wasn't playing basketball again anytime soon. This could signify Lebron James isn't expecting the NBA season to return.
It was hard to tell what was better the Tacos or the view from his eating area. The only difference was there no one at the table with Lebron because of social distancing for coronavirus fears.
Grocery Stores are still open in most areas, so it's not impossible for you to have a Taco Tuesday like Lebron James amid the coronavirus crisis. With all the food people hoarded from stores, most will have the materials needed to make this happen anyway.
The NBA season might be suspended, but for Lebron James the Taco Tuesday season never ends.
Author: JordanThrilla