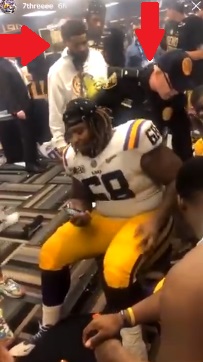 Odell Beckham Jr to be Arrested After Video of Him Slapping Police Officer Butt in LSU Locker room Leaked.
Odell Beckham Jr is going to be arrested after a warrant was issued after a video of him spanking a police officer in LSU Locker room leaked.

Reports say he is being charged with Simple Battery.
In the video, Odell Beckham randomly slaps the police officer on his buttocks. It seems harmless at the moment, but it was very disrespectful and uncalled for.
This just adds to the trouble Odell Beckham Jr was already in for handing out real money to LSU players after their win.
Odell's season with the Browns was a disaster, and it looks like the same could be said about his off season so far.
Author: JordanThrilla