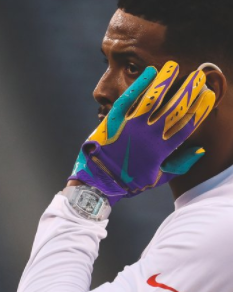 Odell Beckham Jr wore a $2.02 Million Dollar Richard Mille Watch that is One of ONLY 10 made in the world, to his Browns game vs New York Jets, then makes one hand catch. This is the second game in a row where he wore a Richard Mille Watch on the football field while playing. Last time he didn't play so well, today however this happened:
Odell Beckham made another famous One hand catch. One could only assume the Richard Mille watch gave him his powers back. Richard Mille watches are really expensive, even the ones that aren't as rare as the one OBJ is wearing.
Basically having one, is like wearing a nice house on your wrist. People were wondering if Odell Beckham Jr would make the Richard Mille watch thing a trend. He answered that question today, or he either has sponsorship from them no one knows about yet????