Orlando Brown Gets Knocked Out on Valentines Day and Thrown Out Of Somebody House.

Orlando Brown got KO'd on Valentines Day, and thrown into the street in new viral video. Brown can be seen waking up with a rip T Shirt, before being hit again and thrown out the backdoor of the house.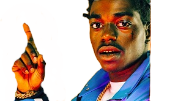 It's not clear what led to Orlando Brown being hit, but he has had a rough time out in the world since his release from prison.
Even on Valentines day, it seems Orlando Brown still isn't getting any love from the people around him.
Author: JordanThrilla