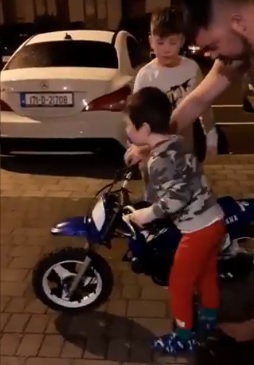 Stupid Parent Buys His Baby Son Still Using a Pacifier a Motorbike For Christmas Then Watches Him Crash Into Light Pole.

A man bought his baby son with a pacifier in his mouth a dirt bike for Christmas, then watched him crash directly into a street light pole violently. The video has gone viral, leaving many people angry at the poor judgement of the parents.
So many questions have to be asked. Firstly, how would anyone think this was a safe gift for a small child? Secondly, why let him test the dirt bike out in an area with so many hazards? Thirdly, what were the parent expecting to happen?
Hindsight is 20/20 so let's hope the parents grow smarter from this incident. Let's also hope the kid was seriously injured. Stay safe on Christmas day.