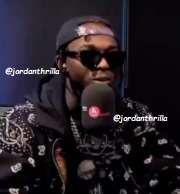 Pop Smoke Final BBC Interview Before He Died Leaks Goes Viral.

As the Hip Hop World continues to mourn murdered Rapper Pop Smoke, his final interview with BBC before he died has surfaced. In his final interview Pop Smoke talked about the UK influence in his music, his origins, and how he linked up with Skepta.

The interview shows how connected Pop Smoke was in the Hip Hop world internationally. He was a true student of the hip hop game, and really appreciate the art behind it.
He was willing to link up with any artist who shared the same passion for music he did.
It's sad that we will miss out on seeing new collaborations between him and UK artists.
RIP Pop Smoke.
Author: JordanThrilla