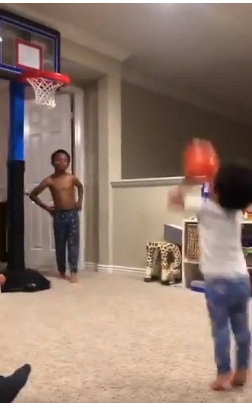 Preschool Kid Named Jalen Doesn't Miss a Single Shot Shooting Around on Indoor Basketball Hoop and gets props from Lebron James on Twitter.
A 1 year old kid named Jalen has gone viral after he made every single jumpshot while shooting around in his indoor basketball goal, and even Lebron James noticed.

His shooting form was perfect, and his feet were square with the rim on every jumpshot. Some of them were nothing but net despite the hoop being smaller. It made you think back to the movie Benjamin Button. The preschooler was already playing basketball like a veteran.
Lebron has already taken notice, and showed how impressed he was on twitter.

Him and Stephen Curry's son could be in the NBA many years from now, as the new age version of the Splash Brothers. Only time will tell though.