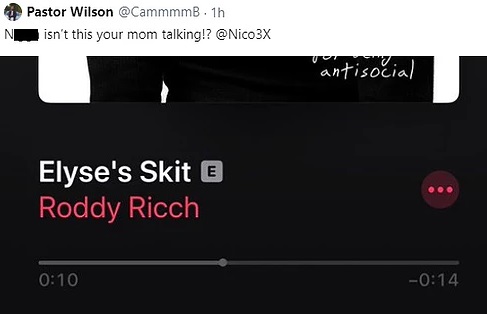 Random Person on Twitter Finds Out Their Mom's Voice is Talking in "Elyse's Skit" on Roddy Ricch New Album "Please Excuse Me For Being Antisocial".

Roddy Ricch's album is finally out and a lot of people are listening right now. One of those people heard the "Elyse's Skit" track and realized it was voice of their mom. One tweet said "Isn't this your mom talking!?", and the random person replied
" LMFAOOO my momma on Roddy album LMFAOOOOOOOO".
His response seemed look one of amazement and shock. This album would be a life memory for sure for this Roddy Ricch fan and his mother. Discussions about how she ended up on the album will probably be had at some point.
Take a listen to the skit above. One of the strangest stories in hip hop skits history, thanks to social media.
Author: JordanThrilla