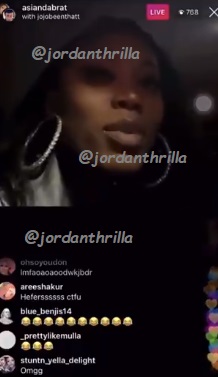 Rapper Asian Doll Gets Dissed on Instagram Live getting called Mega Man Strong Face,

A man clowned Asian Doll on IG Live calling her a Mega Man strong face looking chick. He went on to call Asian Doll a Juwanna Man look alike in his rant of endless insults.

You could tell the jokes were really bothering Asian Doll because she started begging the man to show his face. If the jokes weren't bothering her she would of just ignored the man.
Asian Doll seems to be a bit more sensitive then she lets on. Most people think of her as a tough woman who would be able to take a few jokes. It seems that could possibly be a facade.
It's safe to say this a moment Asian Doll is going to want to forget. The bad thing is the moment has already gone viral.
Author: JordanThrilla