Rapper DaBaby Slaps Female Fan in the Face After She Hits Him With Her Cellphone, then Gets Booed Off Stage in a Viral Video.

DaBaby punched a female fan in her face, after she mistakenly hit him with her cellphone out of excitement. This led to fans at his concert becoming angry, and booing DaBaby off the stage.
DaBaby hitting a female fan with such force could definitely be the biggest mistake of his career so far.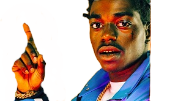 Just a few months ago video went viral of DaBaby attacking a hotel worker. Fans are concerned that this new video comes out only a few months later, in what a lot of people see as another unwarranted violent reaction from DaBaby.
His PR is going to have to work overcome to get past this incident. He possibly lost a lot of fans today.
Author: JordanThrilla