It has been a crazy year so far on social media in terms of celebrities randomly posting or liking unexpected things via social media. Not too long Chance The Rapper's twitter started liking trans adult films. Some time before that Doc Rivers' twitter account did the same thing. Now Drake has entered the chat, but his posts are focused on adult anime films.
Is Drake's Instagram Hacked? Details Behind the Hentai Anime Post
With Drake's album on the horizon of its release the buzz unexpectedly shifted from music to his personal interests. In the past he has never indicated in anyway that he was into anime women. However, today one of his hidden fetishes was revealed, unless his IG got hacked. As you'll see below out of nowhere Drake posted hentai anime breasts on his IG stories, which sent social media into an absolute frenzy. To be fair he has said many times that he prefers very curvy women, but people didn't know that possibly includes cartoon characters as well. Take a look at Drake's cryptic adult anime post, and some reactions from around social media.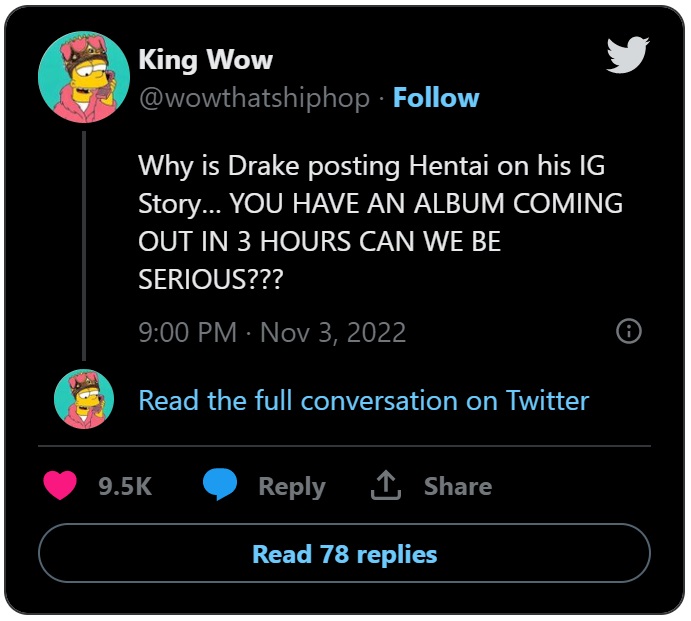 The history of Hentai dates way back to the 1700s. In fact in 1722 the Japanese government made a law banning Hentai manga. Fast forward to 1932 and the first Hentai anime was released titled Suzumi-Fume.
Who would have guessed that in 2022 the most famous rapper in the world who is 36 years old would be posting it on his social media account. Things have really come full circle now.