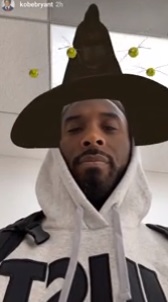 Retired Kobe Bryant Tries on Sorting Hat From Harry Potter Universe on Instagram Live.

Kobe Bryant is retired, and with retirement comes boredom. Kobe Bryant took IG to post a video of himself trying on the sorting hat from Harry Potter. The video is funny because during his playing days, you would never see the reserved serious Kobe Bryant doing stuff like this. In fact during his playing days Kobe Bryant wasn't even on social media for the majority of his time in the NBA.
Harry Potter fans may be more familiar with results of his test, but it seems Kobe Bryant agreed with with school the sorting hat put him into Slytherin, which is supposedly the school of snakes. Kobe Bryant was a magician with the basketball so maybe he was studying spells from the Harry Potter universe during his playing days.
All in all, it seems we are learning more about who Kobe Bryant really is as person in his retirement days.