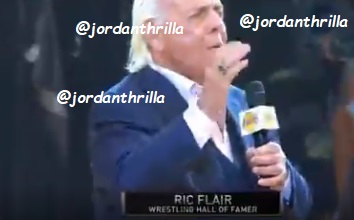 Ric Flair Introduces Lebron James To Crowd with a "WOOO" Like a WWE Entrance Before Lakers Game.

Ric Flair brought out Lebron James with his classic "WOOO" sounds before Lakers vs Pelicans. In true Ric Flair fashion, he called Lebron the greatest athlete ever with his voice full of unlimited energy.

The legendary moment is sure to bring tears of joy to the faces of Wrestling and basketball fans everywhere. A GOAT acknowledging another GOAT.
Ric Flair has had some health scares over the past few years. He fell into a coma not too long ago, and people weren't sure if he was going to make it.
It is good to see Ric Flair healthy again and full of energy. Since Lakers won the game, they might have to start making this a tradition. The Ric Flair Staples Center Tradition.
Author: JordanThrilla