Royce White Threatens To Fight Kendrick Perkins On Sight For Dissing Him After He Posted His Boxing Video.
Royce White claims he is going to beat up Kendrick Perkins whenever they run into to each other, and he let the world know in a bold way. It all goes back to when Royce White made a comment saying Carmelo Anthony should be in the league over Jared Dudley. Kendrick Perkins responded to that comment dissing Royce White, saying he needed to be drug tested.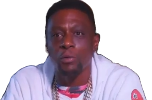 Royce White let Kendrick Perkins know there would consequences for their past beef. This was after he saw Kendrick Perkins post a viral boxing video.
Let's just hope cooler heads prevail when Royce White meets Kendrick Perkins face to face. Royce White doesn't even fly on planes due to an anxiety issue, so this fight actually happen is very slim. Crazier things have happened though.
Author: JordanThrilla